I walk. I collect. I document. The sun prints

I walk. I collect. I document. The sun prints

I walk. I collect. I document. The sun prints
I walk. I collect. I document. The sun prints
I walk. I collect. I document. The sun prints
I walk. I collect. I document. The sun prints
Handmade cyanotypes, unique botanical photograms that bear witness of my...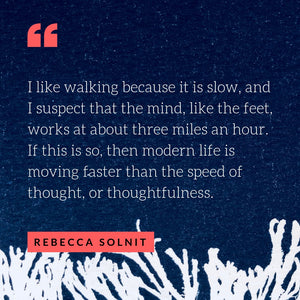 I walk, therefore I am
I've always used to take random strolls where I've lived (Barcelona, Bologna, Paris, Los Angeles...), often as an intimate habit to clear my mind and center my thoughts. The rhythm of walking generates a kind of rhythm of thinking. Some people meditate, others just walk.
When I moved to Los Angeles, the city of cars and freeways, I felt that walking was challenging. However, I kept walking. And looking down at my feet, I started to collect little specimens in an attempt to document my precious strolls.
Then I started to print cyanotype photograms, releasing an unexpected hidden beauty of LA and sewing a series of disconnected interiors by non-human scale urbanism; and learning to love this strange city.
From now on, I document my walks everywhere I go, building a cartography of my memories. Every cyanotype is the memory of a walk, all localized and dated, hitched on to a particular time and place.
Who am I
I am Anna Fabra Raduà (Barcelona, 1978), an art historian by training, a walker by vocation, and a "cyanotypist" at heart. I became a photography lover and amateur since I got my first camera at the age of 7.
Many years and cameras later, I became fascinated by the magic, elegance, and simplicity of a cameraless historical photographic process: the cyanotype. I had finally found the method that suited better my attempt to document a walking body observing the world and trying to make sense of it.
'Cyannatypes' is my creative project born in Los Angeles, California, in 2016. Every botanical cyanotype in this online gallery are is a one-of-a-kind original photogram that bears witness to my walking, hiking, strolling, roaming, wandering...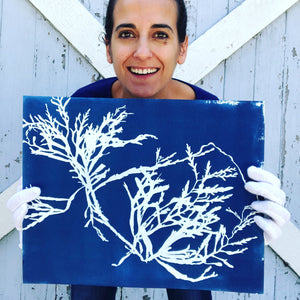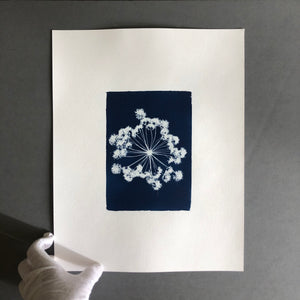 I cyanotype, therefore I resist
Choosing the cyanotype photogram as a technique is an act of resistance (like walking!). The sole use of this 19th-century photographic monochrome printing process (camera-less, no ink involved!) is against the present use and overdose of images that we produce and consume wildly.